Moving furniture has never been easier

Do you ever want to decorate your house differently and move heavy furniture? Or are you moving soon? Moving heavy furniture is a difficult task. Furniture, floors or walls can be damaged. Not to mention physical discomfort.
Das Heben und Bewegen von Möbeln ist dank des Furniture Lift Assist ™ jetzt einfacher als je zuvor. Mit diesem praktischen Werkzeug können Sie mühelos auch schwere Möbel in Bodennähe anheben! Schieben Sie eine rollende Plattform unter jede Ecke des Möbels und rollen Sie das Möbel leicht von seinem Platz. Ein perfektes Werkzeug, wenn Sie alleine leben, unter Rückenproblemen leiden oder sich nur effizient bewegen möchten!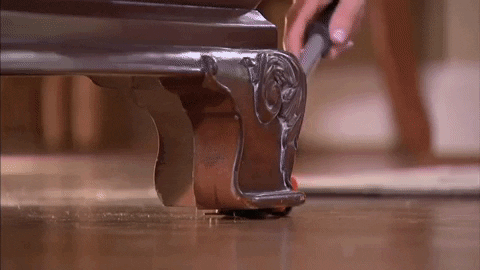 Main advantages:
Move without damage - Prevent damage to furniture or floor. Keep the house and furnishings as good as new!
Moving for all - With this Furniture Lift Help ™ anyone can move furniture! Move furniture whenever you want without needing the help of others.
Prevent Back Pain - Lifting heavy furniture can cause (chronic) back pain. Don't take a risk and keep your body healthy with the help of this handy device.



Suitable for all furniture - TV cabinet, table or sofa - with the Furniture Lift Assist ™ you lift all furniture off the floor, no matter how heavy or low it is!



How does it work?

Place the furniture lifter under the furniture to be moved and lift the furniture lifter backwards so that the furniture is lifted off the floor. Place the rolling platforms one by one under the furniture so that you can roll them stably and effortlessly. The platforms can lift a weight of up to 300 kg.

Our guarantee

In the assortment of Farona you will find products that make life easier, more carefree and more fun. In addition, we are happy to offer you the best service. What can you expect from us?

100% Satisfaction Guarantee - Does your order not quite meet your expectations? No problem! You can return the product within 14 days, then we will refund your money!

FREE Shipping - We will take care of the shipping cost of the product